by Teresa J. Mayfield-Meyer
With GitHub, you can set notifications to be either e-mail or web. As most of us know, you will get an e-mail every time comments on a GitHub issue you are watching. Wait, I'm watching issues?
To see what you are watching, in GitHub, click on the small bell with a blue dot next to your avatar. It will first bring up a list of notifications (where you'll find the list of issues if you subscribe via web) and the next tab is watching. This lists all the threads you are watching and also getting notifications for. Unwatch any you do not want notifications for.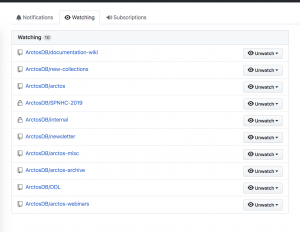 If you want to stop receiving GitHub emails but want to continue to watch, you can switch to the "web" notification method. This method will mean you do not get any of the emails! In your GitHub profile  (drop down from your avatar in the top right), select settings > Notifications and change "watching" and "Participating" to "Web".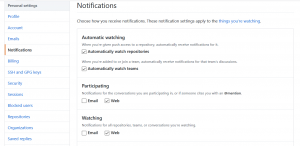 Make sure to then set a reminder on your calendar to go to GitHub to check the notifications!  You can peruse the list, read the issues that interest you and mark those that don't as "read".